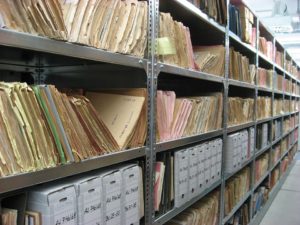 Feel Confident in your Archive Store.
Business Records Management is a British owned leading independent document, file and archive storage & management company. It offers a range of cost effective and secure physical file and box storage services to professional and office-based clients including financial services, legal and accountancy firms.
A wholly owned subsidiary of Lester Holdings Ltd, the business owns centrally located anonymous secure storage premises which all have 24-hour security and are risk assessed for environmental hazards and fire protection. In addition, Business Records Management has invested in the latest technology to deliver an unrivalled service to its many national and international clients.
We pride ourselves for our diligence when it comes to managing your archive. We treat each piece of paper as though it is our own and utilise state of the art technology to acurately track and locate each and every file. Better still you only pay for what you are storing with us and not for empty space!
OUR COMMITMENT TO HELP OUR CLIENTS
Business Records Management has a strong customer-focused ethos and has built a dynamic, secure business to specific services to a broad range of customers. From small office accountancy companies to large blue chip financial institutes, Business Records Management has the experience and expertise to handle your businesses current records management.