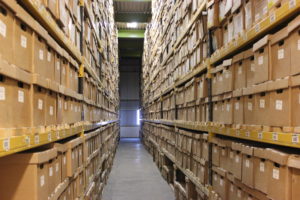 Storing boxes of old files is an expensive hidden cost to business. The files and documents in archive boxes need to be kept for legal or statutory reasons and yet the contents are rarely looked at.
The costs involved are measurable in terms of wasted storage space, human resource and the opportunity cost of failing to use the space for more profitable applications. Very often, archive boxes are kept in lofts, garages, 'stationery' cupboards and in self store lock ups – but more often they are stored in prime office space.
Business Records Management offers a complete solution. The archive is stored in secure premises, managed through a database to ensure that the archive box and its contents are still live and destroyed when the life has expired. When files are required for additional work, they are retrieved and dispatched to your office.
In summary, if you currently store your records in-house or with an alternative archive store, moving your records to BRM to store and manage will bring the following benefits:
Release of office space for more profitable use
Security and safety – from physical damage and 'human error'
Better control of and access to records
Reduction in 'hidden' overhead – e.g wasted time and effort
Destruction when life has expired
Service levels that exceed client expectations
Flexible, uncomplicated charges
Flexible, uncomplicated contracts
Database construction and management in compatible languages
Expansion to match your growth
How the archive service works in practice
BRM will bar code and identify every box whether from an existing service provider or direct from your office.
The barcode data is uploaded to the 'See-it' database system and all the benefits derived from being able to sort by cost code, box number, destroy date and subject matter contained are immediately available to you.
When a box is required, you can instruct BRM to retrieve the box and deliver it to your door next day or within the time scale agreed. When the work is finished, the box can be collected with any newly generated boxes to be returned to the store.
To see a demo if the 'See-it' database in action, click here
An archive uplift project may comprise of the following:
> survey the archive (by phone or by visit)
> uplift all boxes and if required clear shelving and other physical storage from site
> transfer all boxes to BRM archive store
> identify and barcode all boxes working with a supplied index where possible
> match with supplied database if in existence
> locate in archive box area in Fast Pick or Archive depending on forecast retrieval rates
> build 'See-it' database
> draw and replace boxes as required to agreed service contract
> interleaf files into boxes (saving total box movement)
> deliver boxes to door and collect where appropriate
> destroy to agreed schedule
A typical project would be quoted on the basis of:
> survey and risk assessment
> uplift boxes and clear floors
> transport
> box storage on the basis of 'per box per month' or as required
> delivery and collection
> scanning and interleaving documents back into boxes