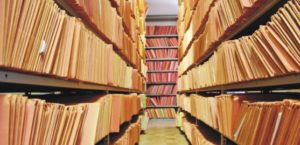 The temptation to keep all data and records close at hand can be very expensive. The ever expanding need for valuable floor space and more and more manpower to organise, file and retrieve files represent significant hidden costs to your business. Business Records Management Archive Storage services can help with Live File Management.
BRM developed its Live Filing service to saves you time, space, money and inconvenience. The service, which is already used by financial services companies and professional firms throughout the UK, involves the relocation of your filing system, with minimum down-time, to secure BRM purpose-built live filing units, regular daily file recovery and returns to your office by our own drivers.
In addition to the space and manpower you immediately save in the office by using the Live Filing service, clients also reap the following benefits:
The ability to track files from store to desk and back via the secure online See-It system

The ability to issue online retrieval, collection or destruction instructions via the See-It system

Rationalisation of live file to archive ratios i.e. is a file really live or is it archive

Accurate file life auditing which prevents holding material which can be destroyed

Comprehensive reporting by cost code, by file type, by destroy date or by any other criteria
By allowing BRM to take on responsibility for your records on a daily basis, clients are also able to reemploy staff who previously spent their valuable time filing and instead have just one file coordinator responsible for all incoming and outgoing file requirements.
Your coordinator will have 24-hour access to the See-It system and can deal directly with BRM's storage and filing operatives, each of whom can be contacted without having to go through time consuming account managers.
A Live Filing project can include any or all of the following services:
Removal and preparation of your stored files and data

Clearance of shelving and other physical storage equipment from your site (saving your valuable space)

Transfer of all files to a secure BRM live file store

Identify and securely bar code all files

Match with your own records database if in existence

Allocate file archives to a secure live file area on mobile or static shelving

Construction of your company's own See-it system database

Retrieve and replace files as required

Interleaf new documents into files as required

Deliver files to your door and collect when required

Review the status of files and archive those no longer required on a daily or regular basis (thus reducing Live Filing costs)

Follow destruction instructions and destroy any files or records requested and verified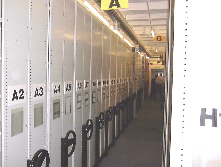 Quotes for the Live Filing service offered by BRM are based on several factors including the time and costs of relocating files, the requested frequency of deliveries and collections, and the storage space required to create your own off-site storage facility. However, we offer a free relocation and risk assessment survey and charge for storage on an easy to understand per box (or metre) per month basis.
BRM offers archive storage, live file storage, document storage and daily deliveries to businesses, financial sector, solicitors and accountants in  Peterborough, Northampton and Cambridge through to North London. Our services include: confidential destruction, shredding, media storage and project management .